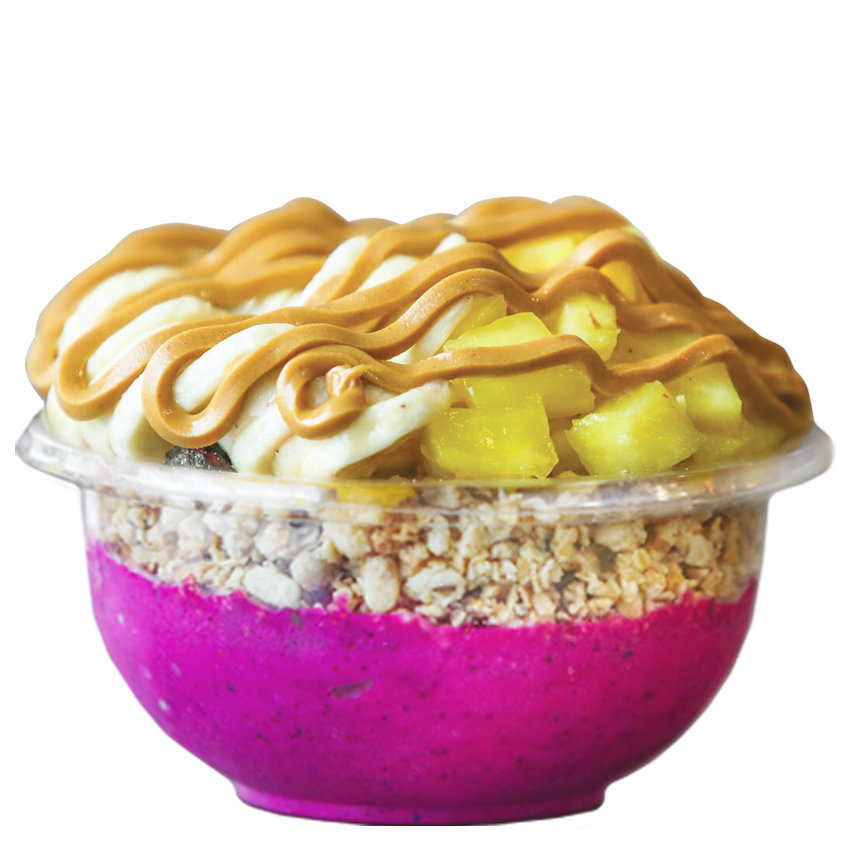 BELIZE BOWL
Base: Vanilla Whey Protein, Pitaya, Banana, Pineapple, Almond Milk Toppings: Granola, Banana, Pineapple, Peanut Butter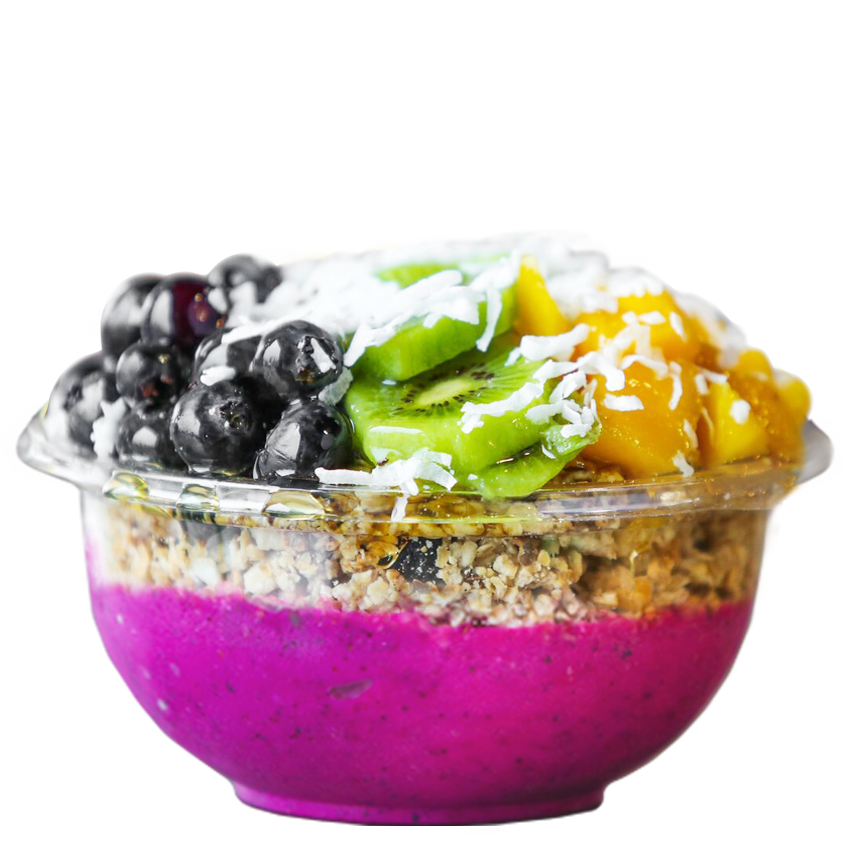 JAMAICA BOWL
Base: Pitaya, Banana, Pineapple, Almond Milk Toppings: Granola, Blueberry, Mango, Kiwi, Honey, Coconut Flakes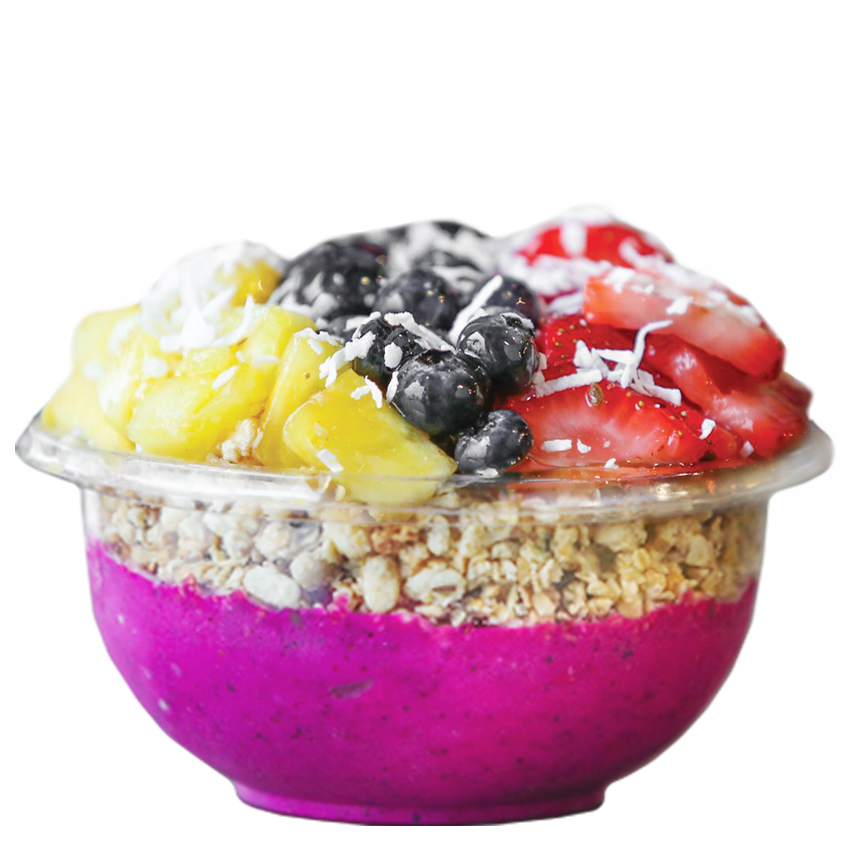 BERMUDA BOWL
Base: Pitaya, Banana, Pineapple, Almond Milk Toppings: Granola, Strawberry, Blueberry, Pineapple, Honey, Coconut Flakes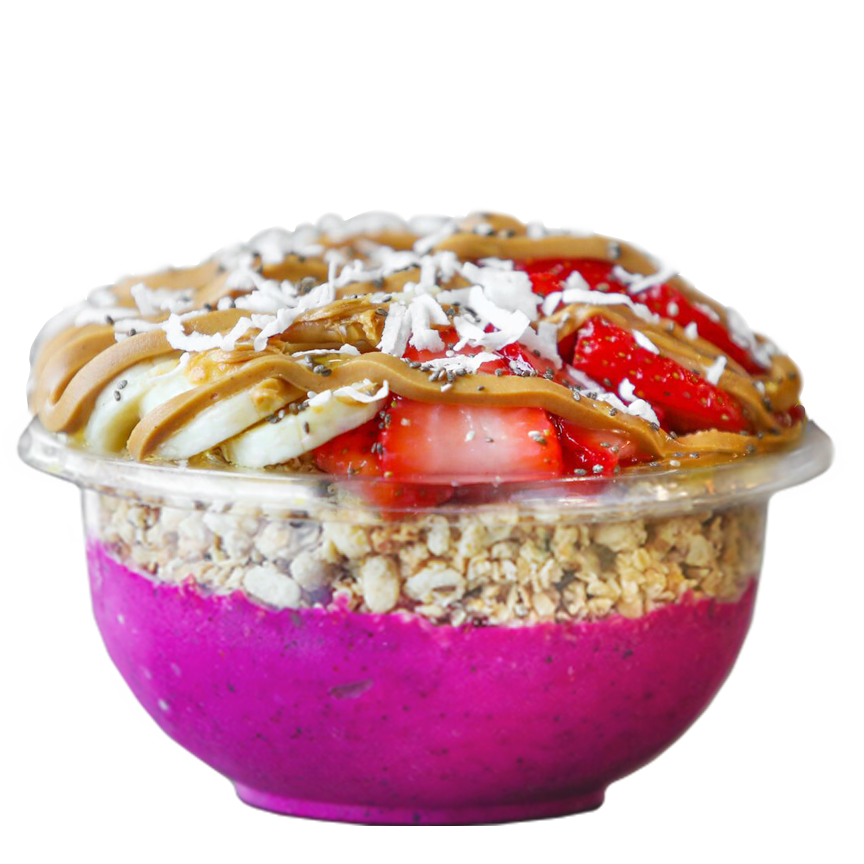 FIJI BOWL
Base: Pitaya, Banana, Pineapple, Almond Milk Toppings: Granola, Banana, Strawberry, Honey, Peanut Butter, Coconut Flakes, Chia Seeds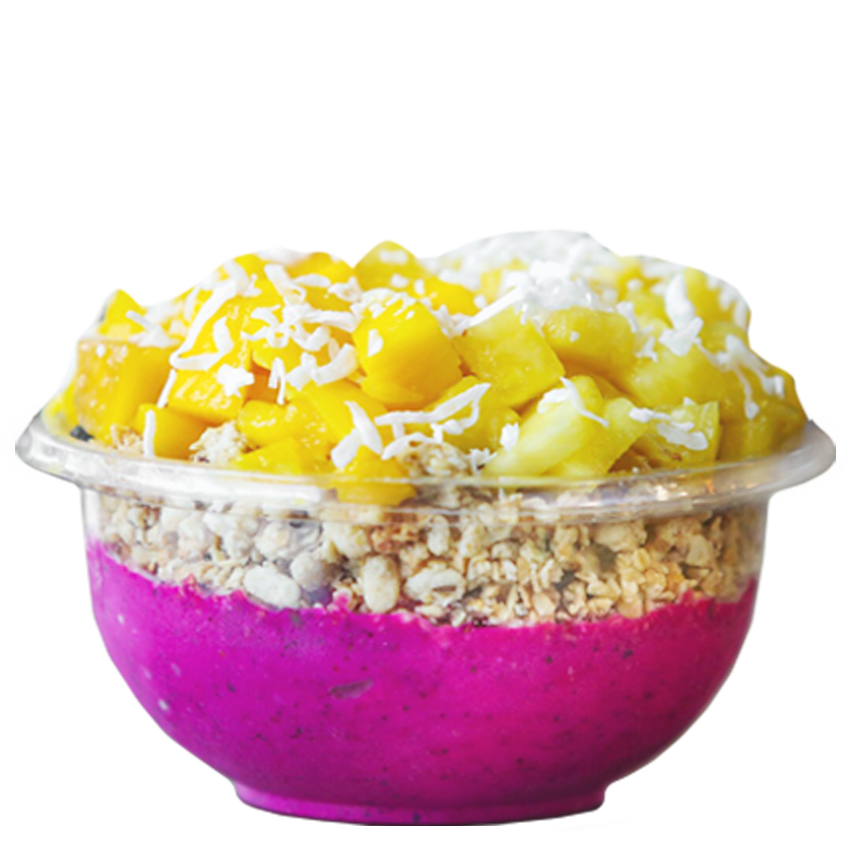 BARBADOS BOWL
Base: Pitaya, Banana, Pineapple, Almond Milk Toppings: Granola, Mango, Pineapple, Coconut Flakes A COLORFUL AND HEALTHY OPTION
Pitaya bowls are a healthy, colorful, and tasty option for any meal. Packed with nutritious ingredients like pineapple, granola, mango, blueberry, almond milk, and dragon fruit. These tasty components of a Frutta Bowls pitaya bowl are beautifully arranged in a visually pleasing way that makes them simply irresistible.
The Health Benefits of Dragon Fruit (Pitaya)
Pitaya, commonly known as dragon fruit, is the main ingredient in our bowls. This vibrantly colored fruit doesn't just look pretty, it also packed with vitamins, nutrients, and tons of fiber.
Dragon fruit works wonders for your gut by promoting healthy bacteria growth. It also boosts your immune system thanks to the many antioxidants it contains like vitamin C and carotenoids. Dragon fruit can also give your iron levels a boost. As one of the rare fresh fruits that contain iron, it can help combat this common deficiency.
Dragon fruit is also an excellent source of magnesium. Magnesium is in all of your cells and plays a critical role in turning food into usable energy. It also supports bone and muscle health and may even prevent heart disease.
What's in a Bowl?
We offer several different styles of pitaya creations at Frutta Bowls. A few of the favorites are the Bermuda Bowl, the Fiji Bowl, and the Jamaica Bowl.
Each of these bowls starts with an dragon fruit base. Crunchy granola and cool almond milk add complementary tastes and textures. Each bowl also has a banana and pineapple base, but the toppings are where the real fun begins.
The Bermuda Bowl is topped with strawberry, honey, blueberry, coconut flakes, and more delicious pineapple. The Fiji Bowl allows strawberry to steal the show while being drizzled with honey, covered in peanut butter, and sprinkled with coconut flakes and chia seeds. The Jamaica Bowl hosts kiwi, mango, and blueberry kissed with coconut.
If you are in the mood for something a little simpler, the Barbados Bowl spotlights sweet mango on top of the pitaya base. Featuring vanilla whey protein in the base, the Belize Bowl is a banana and peanut butter delight.
Gluten-free, soy-free and dairy-free options are available, so Frutta Bowls has something for everyone. Stop by today and give our Pitaya Bowls a try!