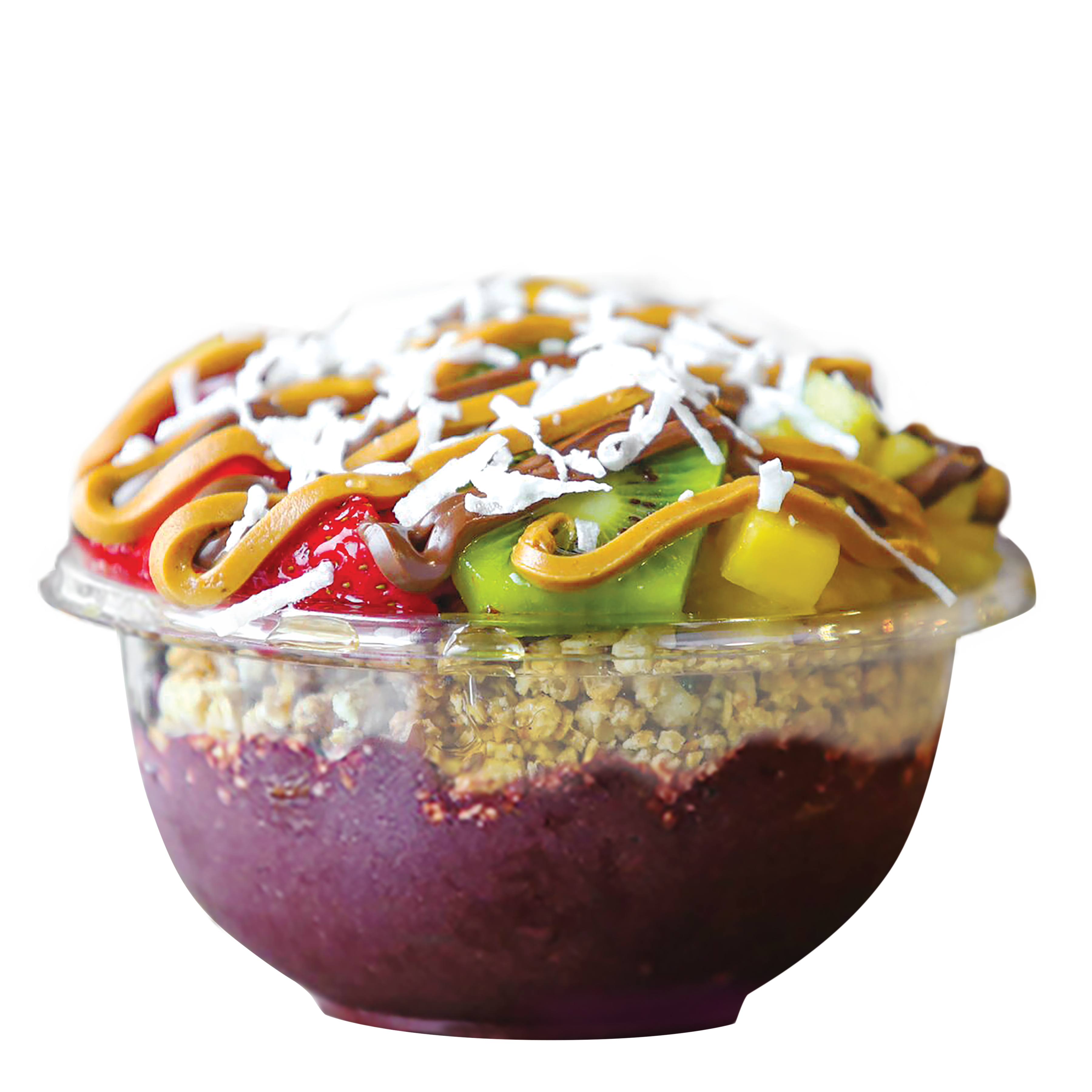 FRUTTA BOWL
Base: Organic Açaí with Banana Toppings: Granola, Strawberry, Pineapple, Kiwi, Nutella, Peanut Butter, Honey, Coconut Flakes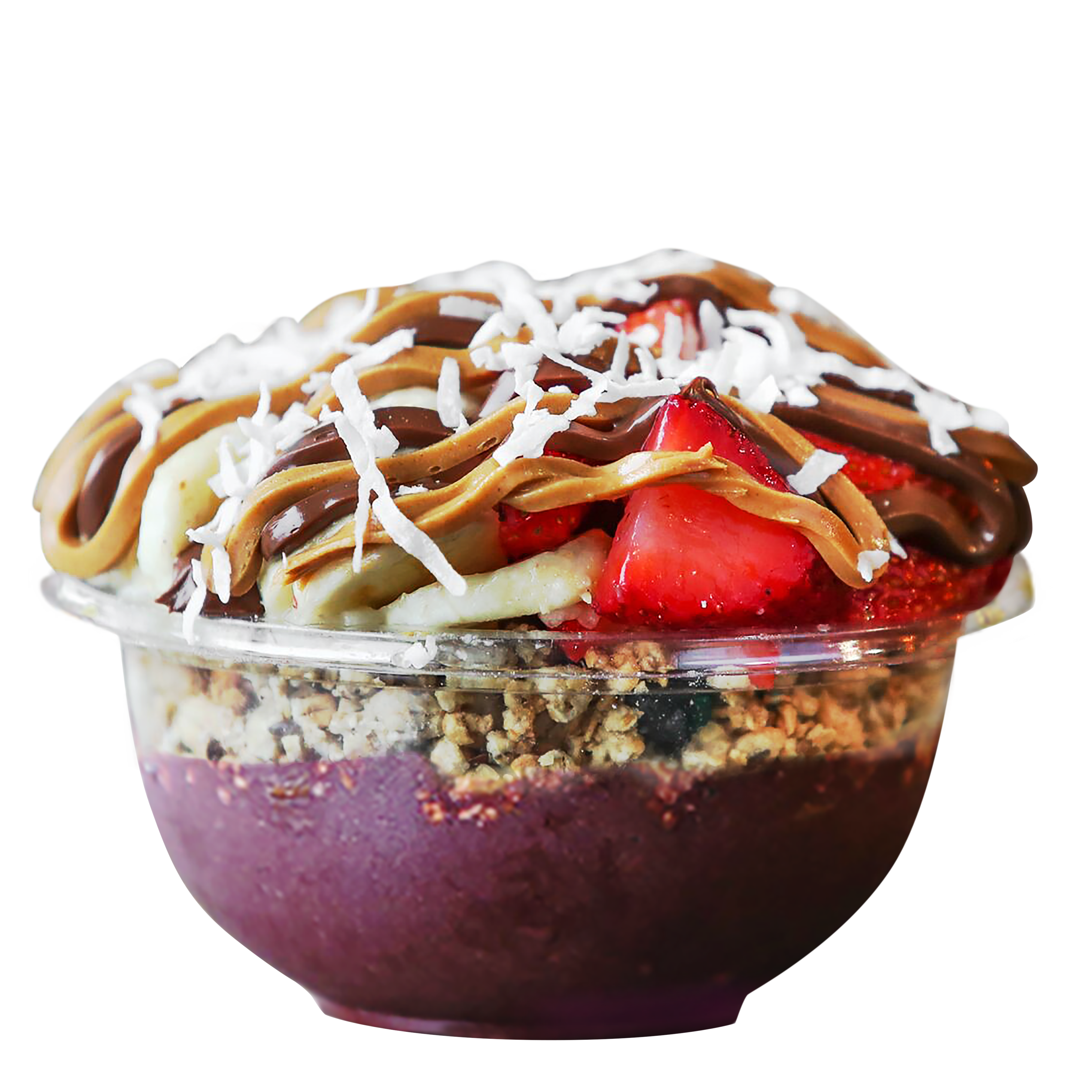 FRUTELLA BOWL
Base: Organic Açaí with Banana Toppings: Granola, Banana, Strawberry, Nutella, Peanut Butter, Coconut Flakes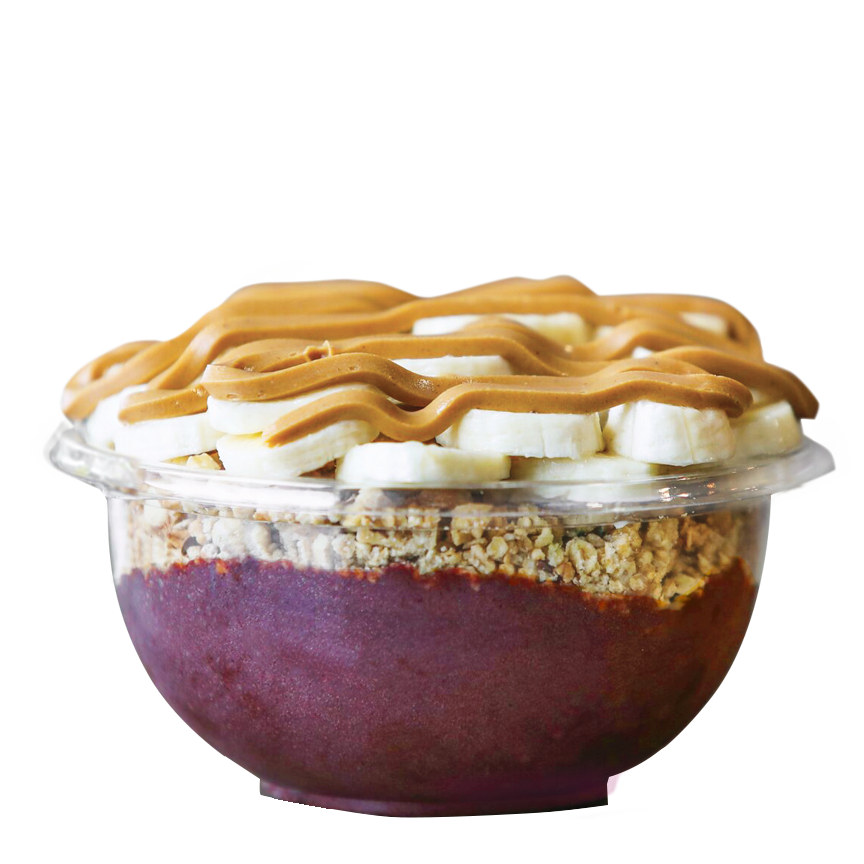 MUSCLE UP BOWL
Base: Chocolate Whey Protein, Organic Açaí with Banana. Toppings: Granola, Banana, Peanut Butter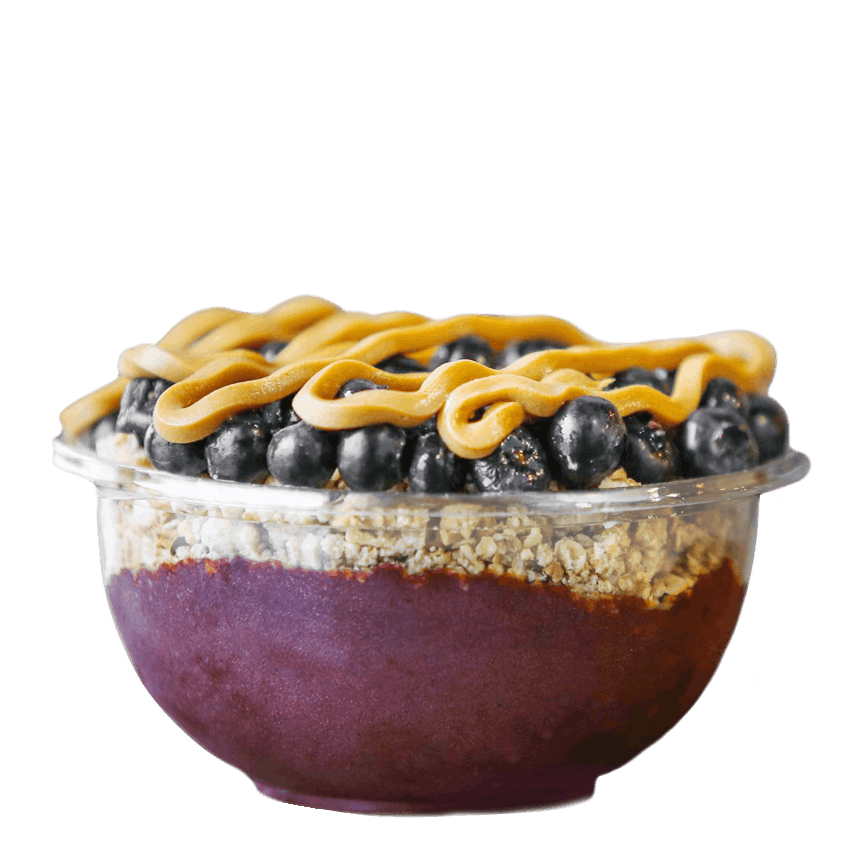 PB&J BOWL
Base: Organic Açaí with Banana Toppings: Granola, Blueberry, Peanut Butter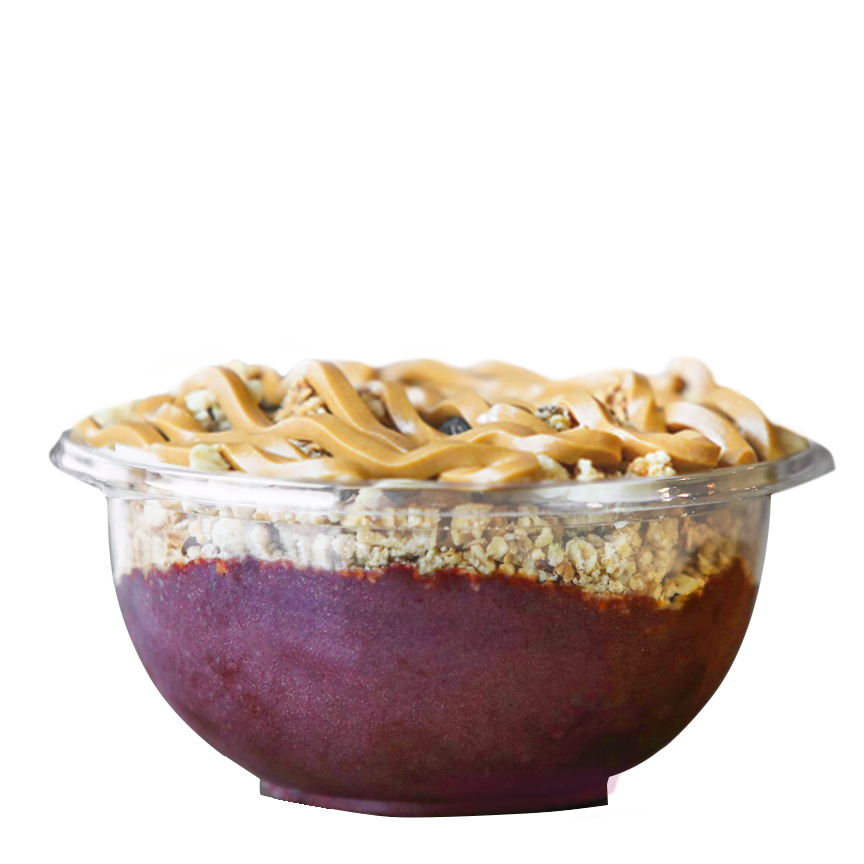 NAKED BOWL
Base: Organic Açaí with Banana Toppings: Granola, Peanut Butter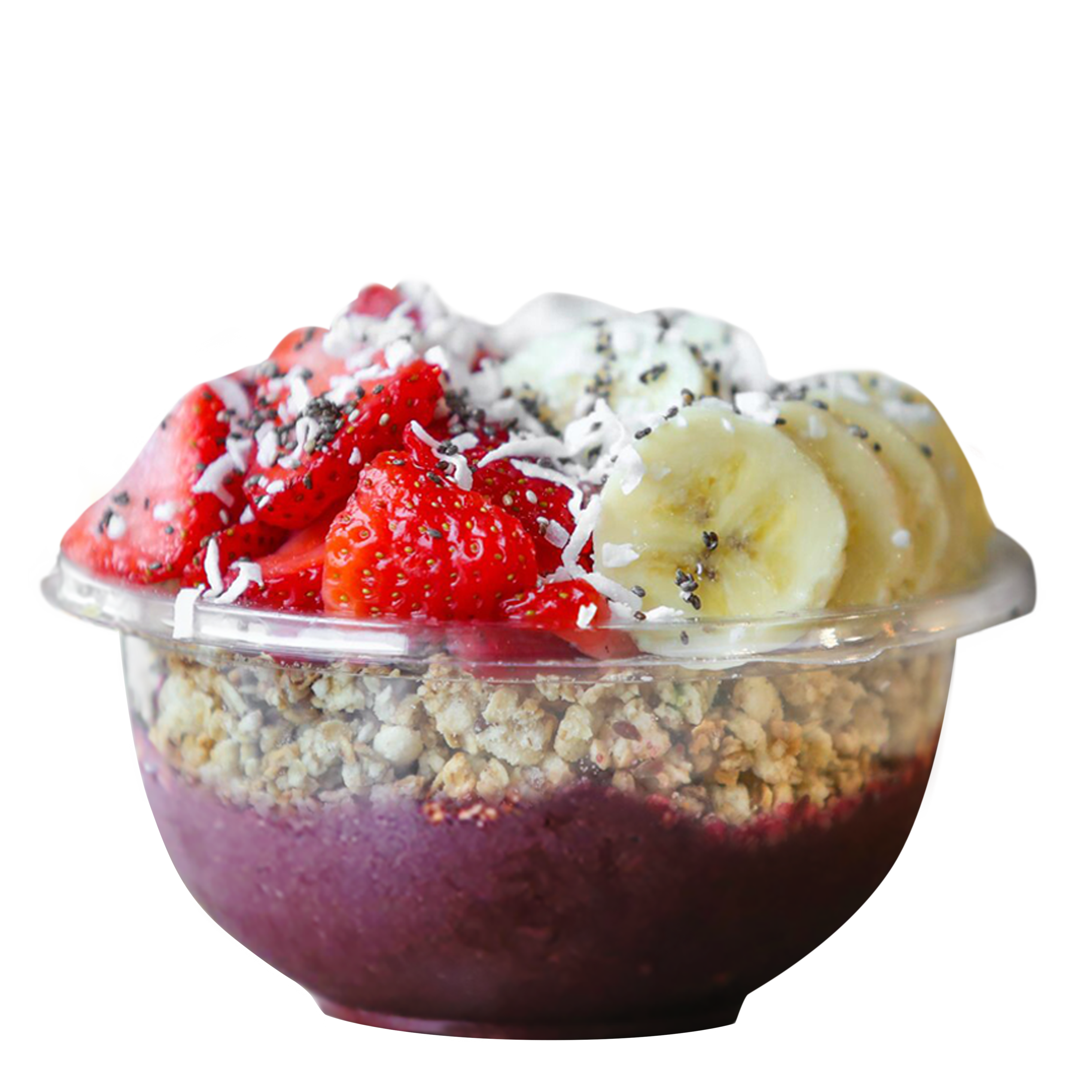 SUPERFOOD BOWL
Base: Kale, Organic Açaí. Organic Pitaya, Pineapple, Almond Milk Toppings: Granola, Banana, Strawberry, Coconut Flakes, Chia Seeds AÇAÍ BOWLS
What is Açaí ?

The açaí fruit is a native to the Amazon region. The skin is a purple hue while the meat inside is actually yellow. Açaí can be found on an acai palm tree among the rainforest. Just like an olive or pomegranate seed, the açaí fruit has a seed in the middle which is why it is not considered a berry.
In order to be edible, the açaí fruit has to be soaked in water for a while to soften the outer skin, and is then pureed into a saucy consistency. The taste is somewhat similar to a blackberry.
Benefits of Açaí

Açaí is very well-known for its health-boosting properties, which is why it has become so popular and is exported around the world. It is rich in Vitamin A, which is beneficial to sight and skin. It has a good amount of calcium and many other minerals, like Zinc and Manganese.
Anthocyanins, the same compound that gives açaí and many other dark blue and purple foods their color, also gives it the antioxidant properties it has. Anthocyanins are also generally known to lower the levels of bad cholesterol. Another benefit açaí has been found to have is a negative effect on the formation and spread of cancer cells.
As if all that weren't enough, açaí may also have a positive effect on brain function due to its antioxidant properties that can protect our brain cells from oxidation. Studies performed on lab rats showed that açaí stimulated the toxin sweep that the brain performs to stay sharp.
Açaí Fruit Bowls

We think you'll love how well-balanced the textures and flavors are in our açaí bowls. The organic açaí base is topped by a banana to balance its earthiness with sweetness. The granola adds a satisfying crunch and strawberries, pineapple, kiwi add the tingly punch we all love. Nutella, peanut butter and honey bring it all together in a rich symphony of sweet and healthy. The coconut flakes are just for fun and crunch, and also add a sweet touch.
Come in and try a bowl today!