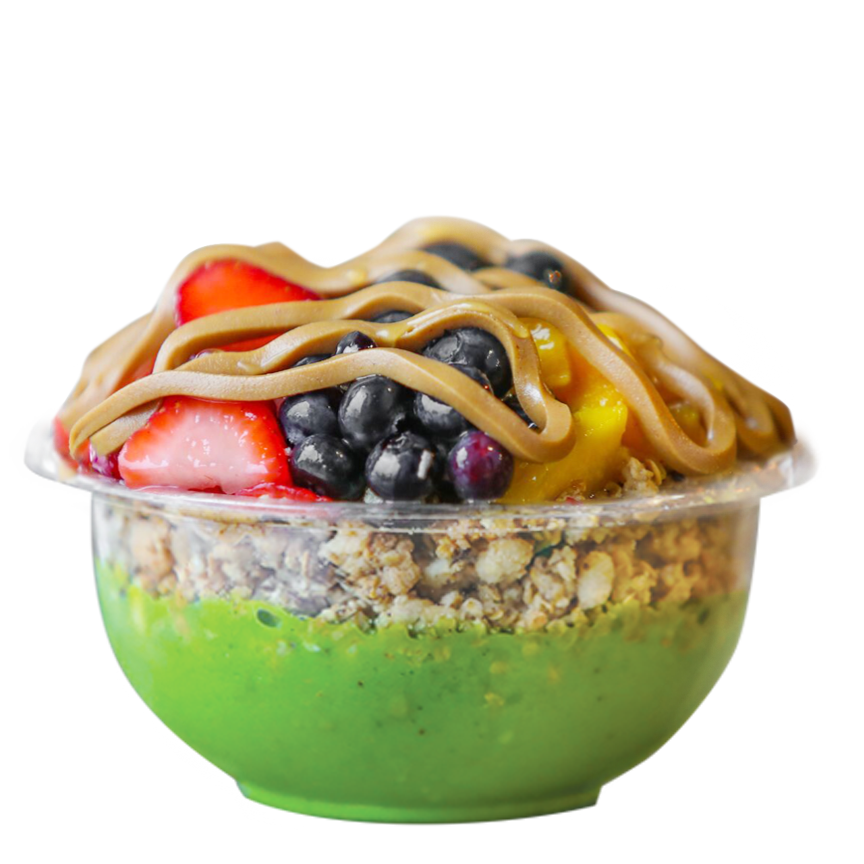 HULK BOWL
Base: Vanilla Whey Protein, Kale, Banana, Pineapple, Almond Milk Toppings: Granola, Mango, Strawberry, Blueberry, Honey, Peanut Butter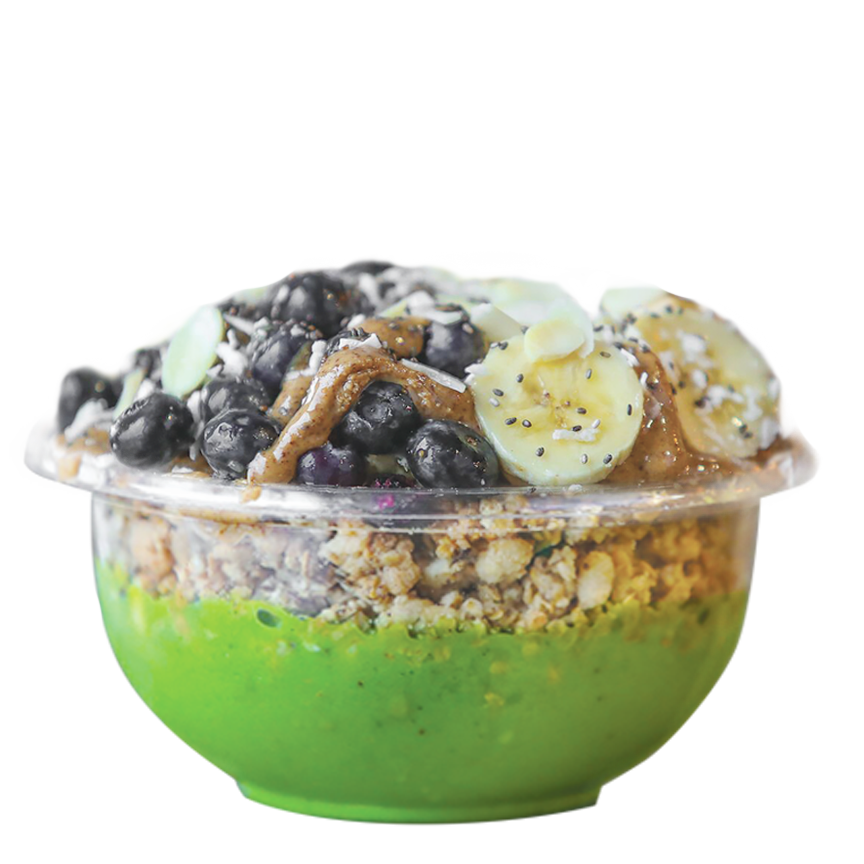 CAVEMAN BOWL
Base: Kale, Banana, Pineapple, Almond Milk Toppings: Granola, Banana, Blueberry, Almond Butter, Coconut Flakes, Chia Seeds, Almond Slices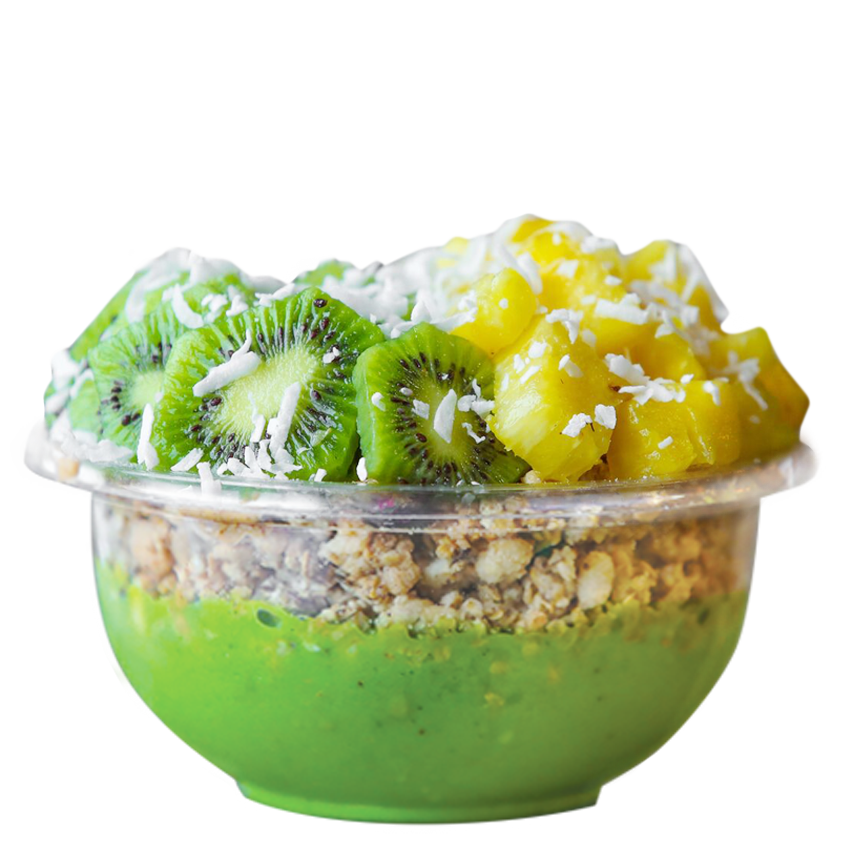 PIÑA COLADA BOWL
Base: Kale, Banana, Pineapple, Almond Milk Toppings: Granola, Pineapple, Kiwi, Coconut Flakes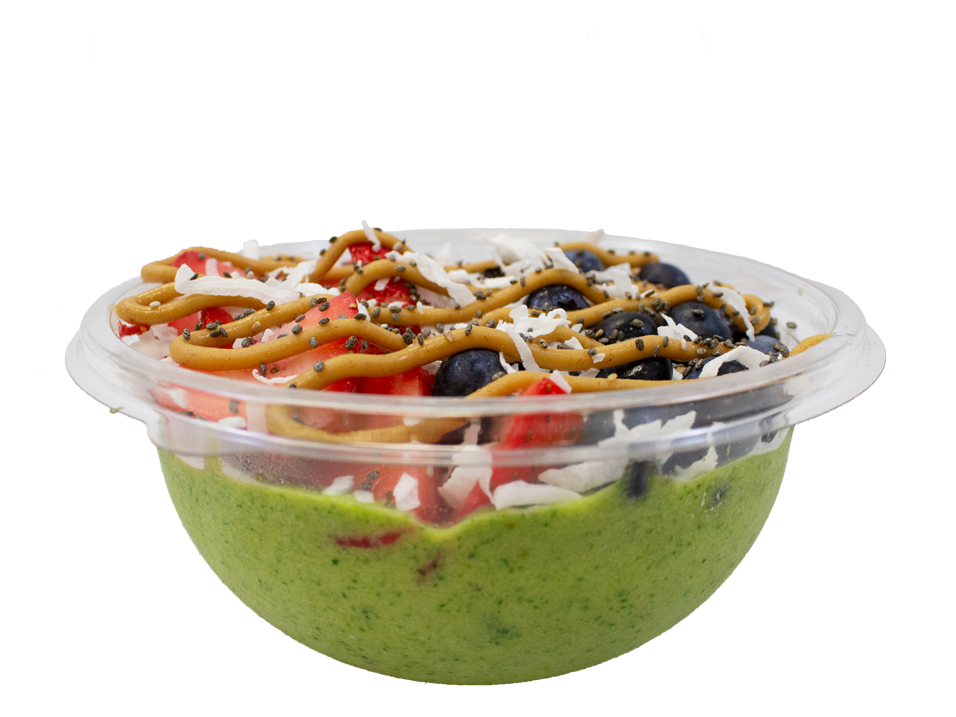 REV BOWL (MACRO FRIENDLY)
Base: Kale, Banana, Pineapple, Sweetened Almond Milk, Vanilla Whey Protein Topping: Blueberries, Strawberries, Peanut Butter, Coconut Flakes, Chia Seeds
KALE BOWLS
Kale is one of the healthiest foods that you can consume, and our Kale Bowls give you a tasty way to reap the health benefits of this leafy green veggie! Just consider some of the ways kale gives your health a boost:
Plenty Of Nutrients 
Kale is a member of the cabbage family, and there are multiple types of kale. The leaves can be green or purple, with either a smooth or curly shape. No matter which variety you choose, kale contains multiple vitamins, calcium, potassium, and magnesium. Kale also contains omega 3 fatty acids. With all those nutrients, kale is considered one of the most nutrient-rich foods available.
Kale Helps Lower Your Cholesterol 
Kale contains bile acid sequestrants, which can help lower your cholesterol levels. In turn, that can help reduce your risk of heart disease. Research has shown that drinking kale juice will improve the function of antioxidants in your body.
Kale May Help Fight Cancer 
Kale has multiple compounds in it that have protective effects against cancer. Kale contains sulforaphane, a substance that helps fight the formation of cancer cells. It also contains indole-3-carbinol, which can help prevent breast cancer, colon cancer and other cancers.
Kale Contains Multiple Minerals 
Kale contains lots of minerals, including calcium, a nutrient that can help strengthen your bones and blood cells. Kale also has potassium that can help lower your blood pressure and helps prevent diabetes.
Kale Can Improve Your Eye Strength 
Kale is rich in lutein and zeaxanthin, antioxidants that can strengthen your eyes, help prevent cataracts, and lessen your risk of developing macular degeneration.
High in Antioxidants 
Kale is packed with antioxidants, as well as flavonoids and polyphenols. Antioxidants can help prevent some of the negative effects of aging, and also act as an anti-inflammatory and anti-depressant.
Kale Can Help You Lose Weight 
Kale has low calorie and high water content. Because of this, kale has a low energy density, which can be helpful when you're trying to lose weight! Kale also contains protein and fiber that not only fills you up, but also helps improve your digestion.
Kale Bowls Bring the Benefits 
An easy way to increase your intake of this superfood is by eating a Frutta Bowls Kale Bowl. Some of the ingredients found in our kale bowls include bananas, pineapple, blueberry, kiwi and more, with crunchy toppings like coconut flakes and granola.
Gluten-free, soy-free and dairy-free options are available, so just about anyone can enjoy the great taste of our Kale Bowls! Stop by your local Frutta Bowls today and give it a try.