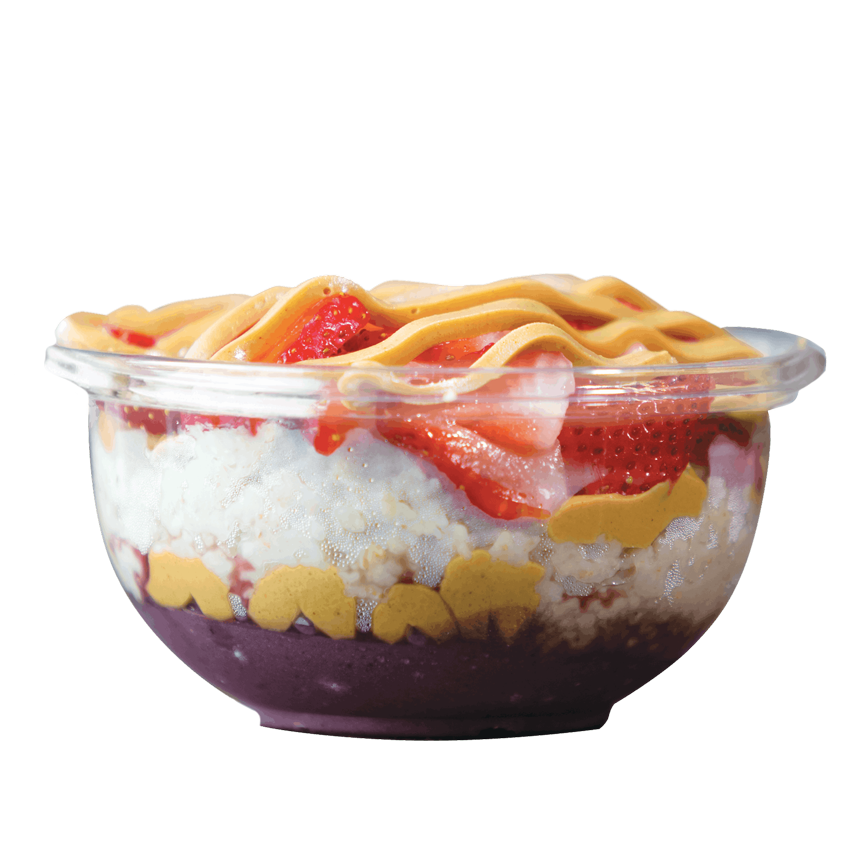 POWER BOWL
Base: Organic Açaí with Banana, Peanut Butter Toppings: Strawberry, Peanut Butter, Oats, Vanilla Plant Protein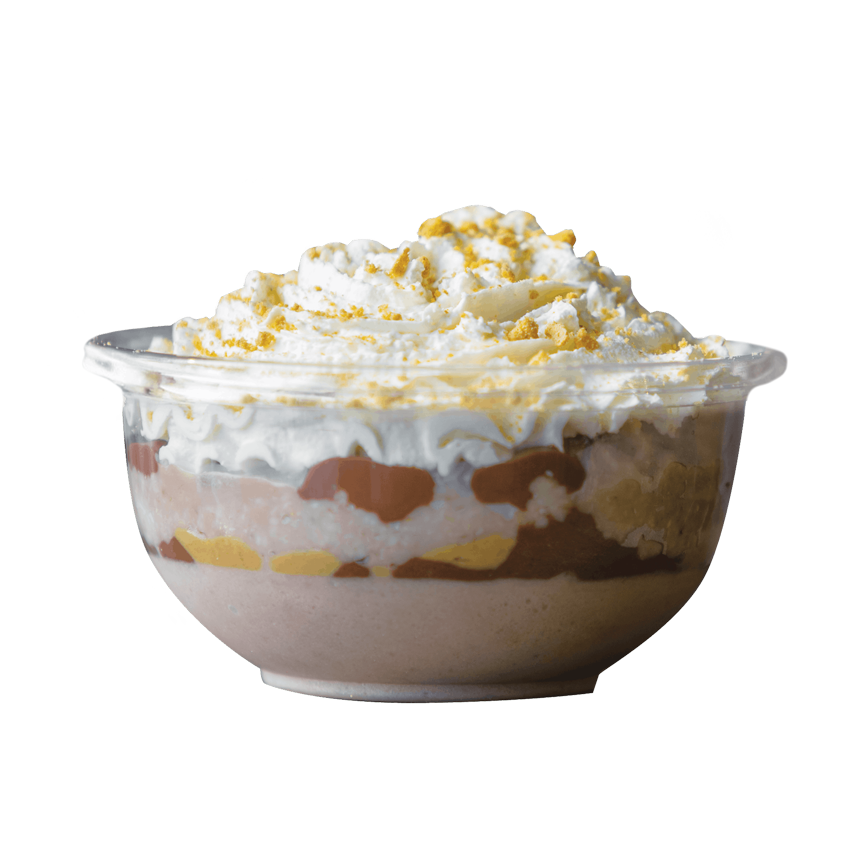 COCO PUFF BOWL
Base: Chocolate Whey Protein, Banana, Almond Milk Toppings: Graham Crackers, Nutella, Peanut Butter, Whipped Cream, Oats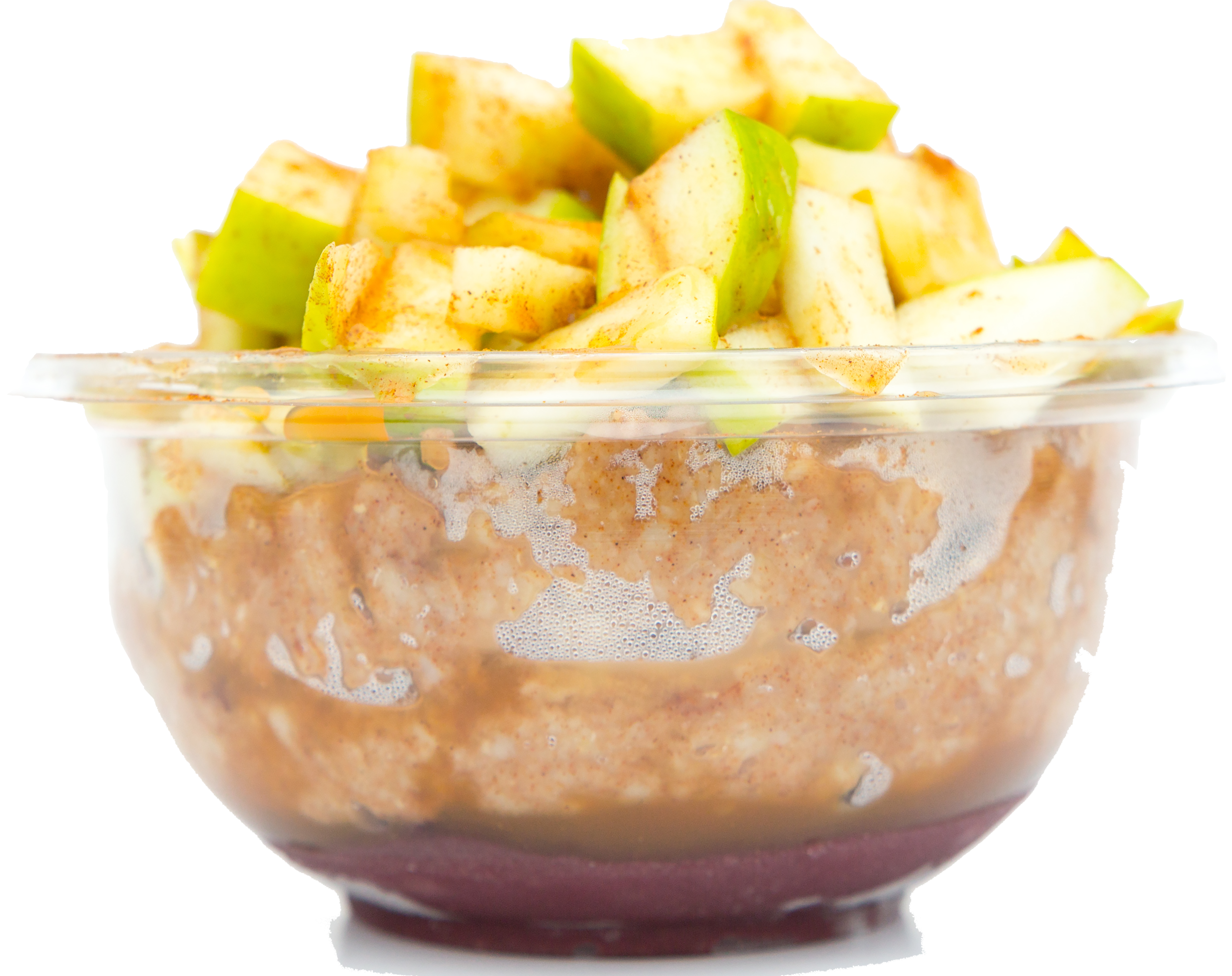 CINNAMON CARAMEL APPLE BOWL
Base: Organic Açaí with Banana Toppings: Apples, Cinnamon, Caramel, Oats HEALTHY OATMEAL BOWLS BY FRUTTA BOWLS
Our healthy oatmeal bowls come in four delicious varieties. We packed each bowl with awesome flavors and nutritious superfoods. You're going to have a hard time picking a favorite oatmeal bowl. Who knew hot cereal could be such a decadent-tasting treat?
OATMEAL POWER BOWL
Our base for the Oatmeal Power Bowl starts with oxidant-rich organic açaí. Then we add a classic combo of banana and peanut butter. On top, we place fresh strawberries, more peanut butter (because you can't have enough), oats, and vanilla plant protein.
COCO PUFF BOWL
Our Coco Puff Bowl is a chocolate lover's delight. The base is chocolate whey protein, banana, and almond milk. We know you'll enjoy the yummy crunch of what's on top: Graham crackers, creamy Nutella, peanut butter, whipped cream, and oats.
CINNAMON CARAMEL APPLE BOWL
We've made caramel and apple deliciously good for you with our Cinnamon Caramel Apple Bowl. Our base is organic açaí and fresh bananas. Our sweet and tasty toppings are fresh apples, cinnamon, caramel, and oats.
Health Benefits of Oats
Often eaten as oatmeal, oats are a whole-grain food that's rich in nutrition. Oats are an excellent source of antioxidants, including ferulic acid and avenanthramides, which are anti-inflammatory. Oats provide high quantities of these important vitamins and minerals:
Iron
Folate
Vitamin B1
Copper
Thiamine
Manganese
Phosphorus
Zinc
Oats are rich in soluble fiber and can play an important part of a heart-healthy diet. Researchers have found that due to their high fiber content, oats can lower your LDL (that's the bad one) cholesterol when you eat them regularly.
Other benefits from the fiber in oats are improving blood sugar levels and easing constipation. Also, oats can help you maintain a healthy weight because the fiber in oats makes you feel full.
But apart from all those benefits and reasons to enjoy our oatmeal bowls, you might find yourself enjoying their delicious flavors so much that you forget about all the health benefits. Dairy-Free, Gluten-Free & Soy options are available, so everyone can enjoy a healthy oatmeal bowl. Stop by your local Frutta Bowls and try it today!